Crimping

In front of growing demand from our customers and in order to remain competitive, Tmlaser invested in a HAEGER 824MSPe automatic crimper.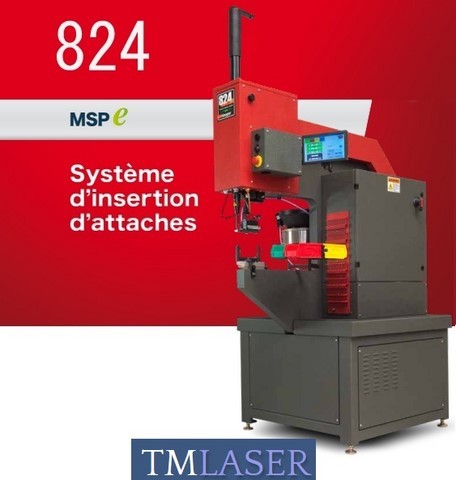 Machine Specifications and Dimensions:
Force Range Adjustable 900 LBS. (4 KN) to 16000 lbs. (72 kN) -
Optional 20,000 lbs. (90 kN) modification available
Throat Depth 24" (610 mm)
Stroke Length Adjustable 0 to 8.5" (0 to 220 mm)
Electrical 208 to 575 V 3 phase - 50 or 60 Hz
Motor 5 HP
Oil Tank Reservoir 22 gal./ 83 liters
Speed up to 1400 insertions per hour
Repeatability +/- 2% of force setting
Footprint (LxWxH) 1499 mm x 966 mm x 2388 mm (59" x 38" x 94")
Fastener Range M2 to M10
Clinching Capability 1 mm to 6 mm combined thickness
Multi-Shuttle Tooling Platform for Nuts,Studs and Standoffs
AUTOMATIC BOTTOM FEED TOOLING (ABFT)
Single Station settings or Multi-Station: Operators can set the Force,Dwell and Up Travel from this single
station screen.
Programs: Up to 999 programs can be stored and loaded.

Automatique tools for studs M4 and nuts M4 up supply.
Up supply tool for studs type FH M3 à M8 of 6 to 30 mm length.
Up supply tool for, for Standoffs M3 à M5 of 6 à 30 mm length.
Up and down supply tool for nuts type S M3 à M6
Up and down supply tool for, pour nuts type S M8
DESCRIPTION
The 824 MSP is fully hydraulic, 8 tons of force, 610mm gooseneck it has an automatic power supply of a laser safety system. The 824 MSP is suitable for medium to high volume rooms with fasteners up to M10 mild steel and M6 stainless steel.

This machine is also effective for aluminum parts with the positive stop function where the force required is less than 450 kg. The 824 MSP also has a 4 station lower turret you can insert 1 fastener automatically and three different fasteners manually, which allows you unique handling of the part. productivity is thus increased by inserting four different inserts, all with their own